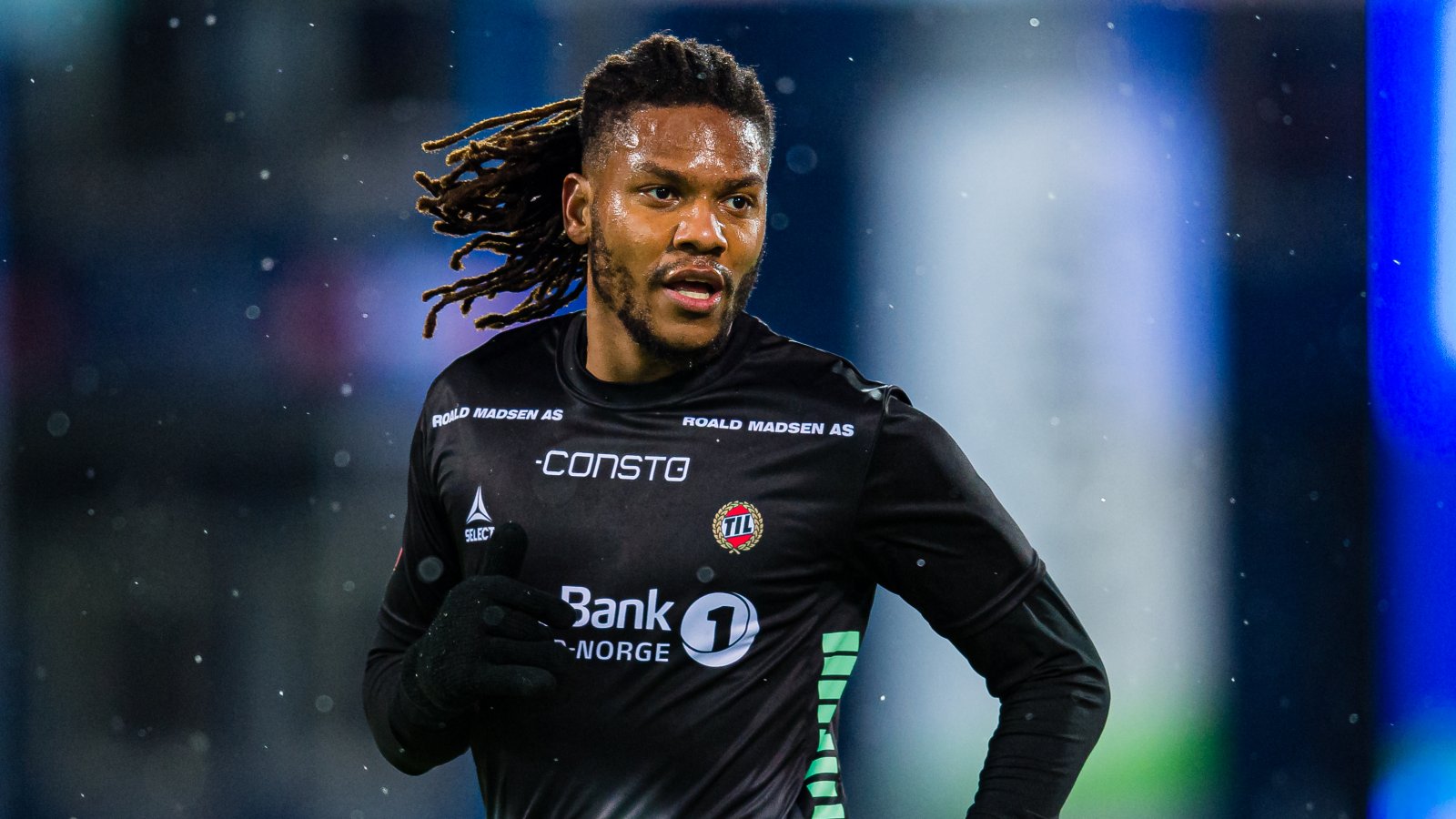 Vår dyktige skribent, Thore Danielsen, har igjen svingt pennen. Denne gang har han tatt en prat med vår stopperbauta, Christophe Psyche.
You have played more than 260 matches in Norway since you first came here?
- Oh, I didn't know. I didn't think about it.
You started out in Norway - playing in red and white - for a club called Oslo City?
- Yes. That's right. I was 21 years when I started there. It was football that brought me to Norway. I came here because there was an agent from England. He was playing for Liverpool and Stoke City at that time. His name is Salif Diao. He's from Senegal, and he brought me to Norway and he told me that the team Oslo City had a project in trying to get to the OBOS-liga. At that time I was in fifth or sixth division in France. And he asked me if I would like to try something new, and that the club was in second division. And I answered: why not. And then I went to Oslo, but it did not work as well as expected. They did not qualify for the OBOS-liga. But then other teams in Norway were interested in me, so since that time I have been playing mostly in Norway.
You played for Oslo City in 2010?
- Yes. They were on the third level, second division at that time. And they were relegated to the third division the year after. And like I said, it didn't work like they were expecting.
But that wasn't your fault!
- I was injured for a long period. I was having an issue with my groin. I was out for like four-five months.
After playing for Oslo City you went to Løv-Ham? And you played for both Løv-Ham and Kristiansund the following year?
- Yes. Because Løv-Ham was having an issue as well with the economy. And it was not going to well in the league. Løv-Ham was in first division. So after half a season I had the opportunity to go to Kristiansund. So I was playing in second division again. I decided to go one level down to jump higher and I think we got to OBOS-ligaen two years after. And it was at that time I can say that everything started to be well with me. I got to play OBOS-ligaen with Kristiansund. And then I went to Ham-Kam, but again there were problems concerning economy. And Sogndal were interested in me. I went there, and I stayed there two and a half years. When I started there we were in Eliteserien, but we went down to OBOS-ligaen. And back to Eliteserien again. But then I was injured again. This time an achilles-injury. And I was out for the most of one whole season. I think I played 6 games and then no more games that season. Next year I went to Czech Republik to play for Banik Ostrava. Again half a season. And then I went back to Kristiansund for two and a half years. It all went very good, but in 2020 we couldn't find an agreement on a contract so I went to Cyprus for half a season playing for AEL Limasol. And then I came back to Norway. To Tromsø.
If I should describe you with three words, these would be: big, proud and real. How do you feel about that.
- I would like to know why you said proud.
Because the way I see you playing is that you can see he's fair, he enjoys it and he is proud of what he manages to do. There is no turning back, you're not giving in and you keep fighting anyway.
- Well, of course I am big. And I can say I'm proud of the way I'm playing as well. Especially with Tromsø. Because I like the way we play. And yes, you could call me real. First of all it is important to be fair. If I would like the opponent to be fair with me I have to be fair with them.
Why do you think Norway and Norwegian football fits you so well?
- To be honest, I don't know. When I was playing in the Czech republic, the coach didn't like me very much. The one who bought me liked me, but he was soon replaced with one who didn't. And when I went to Cyprus, the coach liked me, but he wanted younger players more. And he was not satisfied with me. But playing here in Norway it looks like people are happy with me and my way of playing. To be honest, I have no idea why they like me here, if I have to compare with the other countries.
I guess you have recognized that the people watching the games at Alfheim, they like you?
- Yes, that is what people are telling me. I don't read much Norwegian, but a friend of mine speaking both French and Norwegian reads the newspaper and he tells me what they are thinking of me. So I can see that the Tromsø fans like me.
And you seem to be getting well along in the group?
- Yeah, when I came here, all the players, the coaches and the staff, they were all very nice with me and that made it even easier for me to adapt. In the beginning it is normal to be a little insecure. I came in August and I think the first game I started was against Rosenborg in September. I had been watching Tromsø playing and I was not used to that way. Tromsø has a special way of playing. In every other team I've played the coaches were all more for the safer way of playing, be more direct and play the long balls. So that is why I needed some time to adapt, because Tromsø is a team that likes to play football, keeping the ball and trying to have control of the game. I needed some time, but I knew I would get there, because the players I was playing with showed me their confidence and they trusted me and made it easy for me to adapt.
You fit nicely in with Jostein, Anders and Casper. Casper seems to be growing bigger and bigger for every game.
- Yeah. You know, he's young. I will not compare him with me because I came here with some years of experience. But he's there now and you can see he has the confidence. I'd give him a few years and he will be the boss in the defense. He is a fast and tough player, he is a good duel-player and he is good with the ball in his feet. I am sure that if he continues to train the way he does, and if he does not run into any problems with injuries, then he will be a really good, top player.
But I would like to get back to Christophe. How old were you when you started playing?
- I was a sprinter. I was running before I started with football. And I started playing football when I was fourteen. Before that I was only playing for fun. You know, when you have older brothers playing and they need to complete the team, they asked me. But I was not playing organised football before I was fourteen.
- I was running short distances, but in competitions sometimes I had to run longer distances and marathons.
How do you find Tromsø, the city?
- The city is ok. The city I've been to before was Bergen when I was playing for Løv-Ham. Apart from that I've always been in smaller cities. Kristiansund was not such a big city like Tromsø. Sogndal is really small. And Hamar, when I played in HamKam, that is also a small place.
- I was used to live in a big city because I come from Marseilles, the second biggest city in France.
Did you know that Tromsø is called "Paris of the north" before you came there?
- Yes. They told me that.
Do you find the weather in Norway really cold?
- Ah, yes. Especially in Tromsø. It's really cold and I feel it's like no summer. It's grey, it's cold and it's windy. Sometimes you have the sun, but it doesn't stay so long. Tromsø is very special weatherwise. There is no darkness in the night. It's light and sometimes at midnight you can see the sun showing itself again. It's strange for me, but now I am starting to get used to that too. And I must tell you that when it was dark the whole day in November and December, it was like terrible for me.
(I must add here that this interview was done before the days with 30+ degress late June.)
But the people are not cold?
- The people? No, no, no, they are not cold. They are open and nice and really friendly.
Your favourite place in Tromsø, where would that be?
- Except the football ground? I would say probably a restaurant because I like to go there often with my girlfriend. Maybe we go to see the good weather or just a short break to take a coffee or something. She is from Kristiansund and she moved to Cypus with me after I played for Kristiansund. When we got back to Norway I told her I was going to Tromsø and she said "ok, I'll follow you". And Tromsø IL helped her to find a job and she's really happy with that. The club is really helping like a family team. They are solid together and you can see that if they think they can do something for you, they will do it.
What is your best football memory?
- I would say that when I played for Sogndal and we went back to Eliteserien. That was nice. I had a nice feeling and we had a great season. And that was the first time I went from OBOS-ligaen to Eliteserien, and I was fit all the time. It was a good memory, and a good experience as well.
Foodwise, what is your favourite?
- It's not Norwegian. Sorry. I would say it's african food.
So it's not the dried cod. Have they tried serving you seagull's egg?
- No. I think there was someone once talking about it. I'm not really interested in that so I did not pay much attention to what they were talking about.
And you find the brown cheese very strange?
- To be honest, I've been in Norway for tvelwe years now, and I tried the brown cheese for the first time at the beginning of this year. That was a bit strange, but it's not bad.
Music? Who's your favourite artist?
- I don't really have a favourite artist. I listen to a lot of different music. It can be classic as well. I'm playing piano, and trying to learn more, so I play a lot of classical music. It is a new hobby which I started with during the Covid, when we had to stay at home. I found out that I had to find me something new to do, and I've always wanted to play piano. So now I have learned how to play. I haven't had a teacher. I've teached myself using an app on the phone. And what I play is more like italian classical music. I don't know if you've heard of Ludovico Einaudi, but he's really famous, and I play some of his songs. And I try to learn more of his songs because playing them I feel I can really be at peace. Playing music I can forget everything, forget football, leave all the stress behind and feel really happy. Playing piano is for me just for fun, just to enjoy myself and have something to do. I don't think I will do something with music later. I just do it to keep busy and to forget everything I need to forget.
So that's Christoph off pitch?
- Yes, and I also like to meet with friends. For instance playing boule, or they come to my place and we can play games or watch some football matches. Especially when there was Champions League matches.
Any messages to TIL fans?
- I can see that the fans are always there, both on home and away games. And they are always supporting us and you can see that they really love TIL. And the way they supported us even when we were in a bad situation, they were there pushing us, and that is really great.
- I did not play the game against Sarpborg where we lost, but as a team, when we lost we all agreed it was not acceptable. Expecially with a loss of 5-1 or 4-1. And like I told you, the attitude and the mentality the players have is really good. And we could see and hear the fans supporting us, they were there, they were still pushing us. It gives us motivation to still want to do more, to make the fans happy and to make them proud of us. It's one of the keys for fighting back for a better result, and the fans are really great. I did not play the next game (away game against Jerv) after that loss, because I had a small injury. But the game after that, against Vålerenga, the attitude was quite different. The team had a talk on the loss, and that affected us as well.
- We have a lot of draw games. You can see that the attitude is there so that we don't give up even if the other team scores and leads 1-0 or 2-1. Like against Viking or Lillestrøm, we don't give up. And we have substitutes that can come from the bench and they score. Also in the game we played against Haugesund. The attitude is there. We just need to continue that way.
And we have totally forgotten the penalty against Haugesund?
- It was definatly not a penalty! I took the ball, and after that the player. The journalists told me after the game that it was not a penalty. And the referee told me that he made a mistake and that he was not sure it was a penalty. But he decided on that. Watching it, you can see the ball changing direction because my right foot is on the ball. I tried talking to the referee, but if you start thinking about the referee as unfair you start to loose concentration and focus. I dealt with it and tried to stay focused on playing my best. And in the end, we came back with a result of 1-1. That's fine. I kept my focus for the rest of the game, but after the game I talked with the referee again. And I told him it was not fair, because some minutes later Moses had exact the same kind of situation with the goalkeeper. The goalkeeper touched the ball, and then Moses afterwards. And when the referee said that it wasn't a penalty, it made me more frustrated.
Thanks for the talk, and I'm so happy you're playing for TIL and not any other team in Eliteserien. It isn't easy getting past Christophe, and you'll have to be smart to do that and get away with it.
- Thanks. That's my job. I have to be there to make it tough, so that's what I try to do.
KBK - TIL 3. august 2022
Etter en herlig hjemmeseier med 3-0 over Sandefjord var det endelig tid for bortekampen mot KBK. En hengekamp som midtukekamp i det som kommer til å bli en travel august måned. Og for en tid tilbake var nettopp denne arenaen hjemmebane for TILs Christophe.
Gutan gikk ut i hundre og dominerte de første minuttene. Allerede etter 18 sekunder har Moses en avslutning like utenfor. Og med knappe 10 minutter på klokka fremviser August, Sakarias og Moses et lekkert samspill som ender i stanga i KBK-målet. I det attende minuttet avslutter August på vakkert vis og med fem-seks KBKere mellom seg og målet finner han åpningen. Stang inn. 0-1. Og det kunne altså lett ha stått 0-3 da.
Men så kommer KBK mer med i kampen. Noen vil kanskje si de er «i dytten». For dytte kan de virkelig. Uten at dommer bryr seg særlig om det. Og Gutan får ikke helt til det de har lyst å fremstå som. Og 4 minutter på overtid får KBK straffe. Det ender 1-1 på en dag der prestasjonene ikke sitter helt. Men man kan trygt si at det ikke bare var Gutan som hadde «en mindre bra dag på jobb».